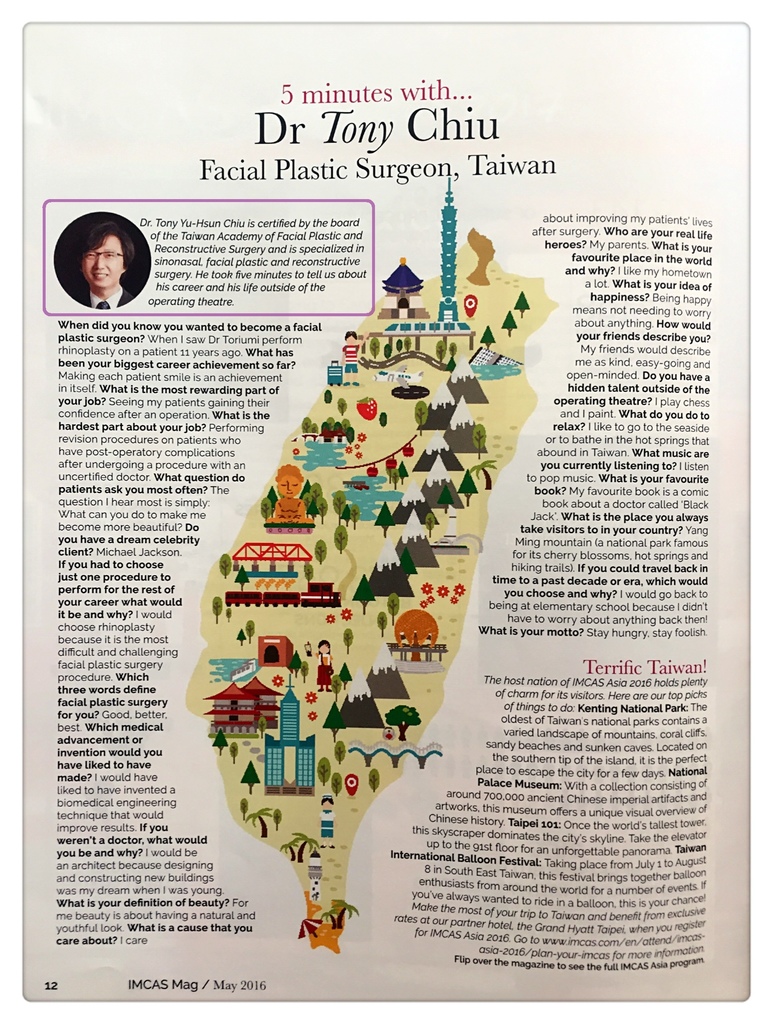 這是我從事顏面整形醫師生涯第一篇英文專訪 !!!

Dr. Tony Yu-Hsun Chiu
is certified by the board of the Taiwan Academy of Facial Plastic and Reconstructive Surgery
& is specialized in sinonasal, facial plastic and reconstructive surgery.
He took five minutes to tell us about his career
& his life outside of the operating theatre.
1.When did you know you wanted to become a facial plastic surgeon?
When I saw Dr. Toriumi perform rhinoplasty on a patient 11 years ago.
2. What' has been your biggest career achievement so far?
Making each patient smile is an achievement in itself.
3. What is the most rewarding part of your job?
Seeing my patients gaining their confidence after an operation.
4. What is the hardest part about your job?
Performing revision procedures on patients who have post-operatory complications
after undergoing a procedure with an uncertified doctor.
5. What question do patients ask you most often?
The question I hear most is simple :
What can you do to make me become more beautiful ?
6. Do you have a dream celebrity client?
Michael Jackson.
7. If you had to choose just one procedure to perform for the rest of your career
what would it be and why?
I would choose rhinoplasty
because It is the most difficult & challenging facial plastic surgery procedure.
8. Which three words define facial plastic surgery for you?
Good,better,best.
9. Which medical advancement or invention would you have liked to have made?
I would have liked to have invented a biomedical engineering technique
that would improve results.
10. If you weren't a doctor, what would you be and why?
I would be an architect
because designing & constructing new buildings was my dream when I was young.
11. What is your definition of beauty?
For me beauty is about having a natural & youthful look.
12. What is a cause that you care about?
I care about improving my patients' lives after surgery.
13. Who are your real life heroes?
My parents.
14. What is your favourite place in the world & why?
I like my hometown a lot.

15. What is your idea of happiness?
Being happy means not needing to worry about anything.
16. How would your friends describe you?
My friends would describe me as kind, easy-going & open-minded.
17. Do you have a hidden talent outside of the operating theatre?
I play chess and I paint.
18. What do you do to relax?
I like to go to the seaside or to bathe in the hot springs that abound in Taiwan.
19. What music are you currently listening to?
I listen to pop music.
20. What is your favourite book?
My favourite book is a comic book about a doctor called "Black Jack".

21. What is the place you always take visitors to in your country?
Yang Ming mountain
( a national park famous for its cherry blossoms, hot springs & hiking trails.)
22. If you could travel back in time to a past decade or era,
which would you choose and why?
I would go back to being at elementary school
because I didn't have to worry about anything back then !
23.What is your motto?
Stay hungry, stay foolish.